Description
Renowned noise cancelling headphones
QuietComfort 35 wireless headphones II are engineered with renowned noise cancellation. With Google Assistant and Amazon Alexa built-in, you have instant access to millions of songs, playlists and more—hands free.* Simply choose your voice assistant and ask away.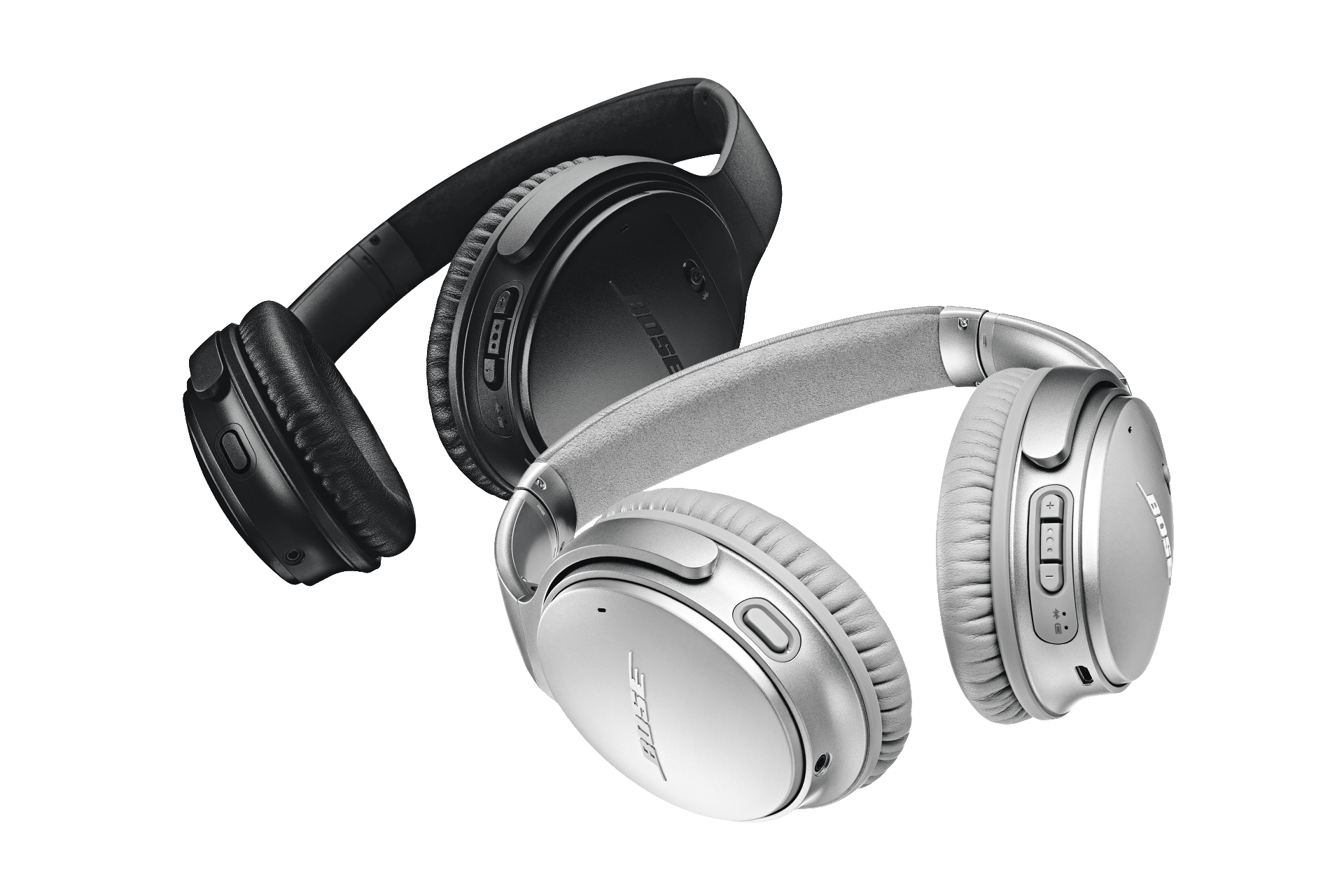 Focus .On.

What happens when you clear away the noisy distractions of the world? Concentration goes to the next level. You get deeper into your music, your work, or whatever you want to focus on. That's the power of QuietComfort 35 wireless headphones II. Put them on and get closer to what you're most passionate about. Proprietary technology continuously monitors and measures outside noise and then cancels it with the opposite signal. But we didn't stop there. You can also adjust the level of noise cancelling between two levels to better fit your environment. So you can focus — really focus — on what matters.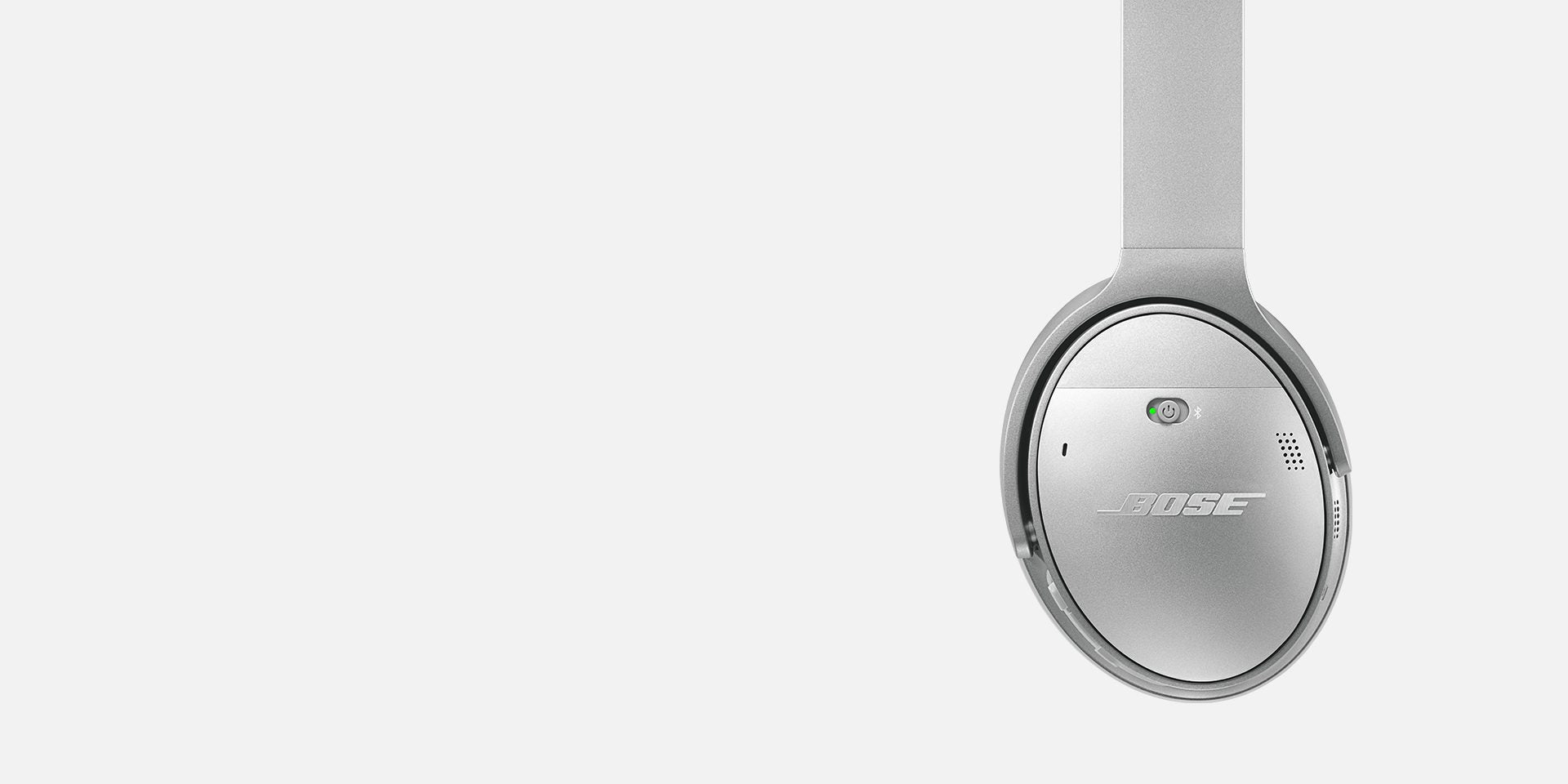 BOSE + VOICE
Now you're talking

QuietComfort 35 wireless headphones II are optimized for Amazon Alexa and Google Assistant.* That means you can enjoy entertainment, get information, and manage your day — all with your voice. Whichever you choose, you're covered. Just press and hold the Action button for help. And they still feature our world-class noise cancelling technology that blocks noise and lets you lose yourself in your music.
NO VOICE ASSISTANT? NO PROBLEM.

If you're not an Amazon Alexa or Google Assistant* user, don't worry. You can still use the Action button to adjust your level of noise cancellation between two settings.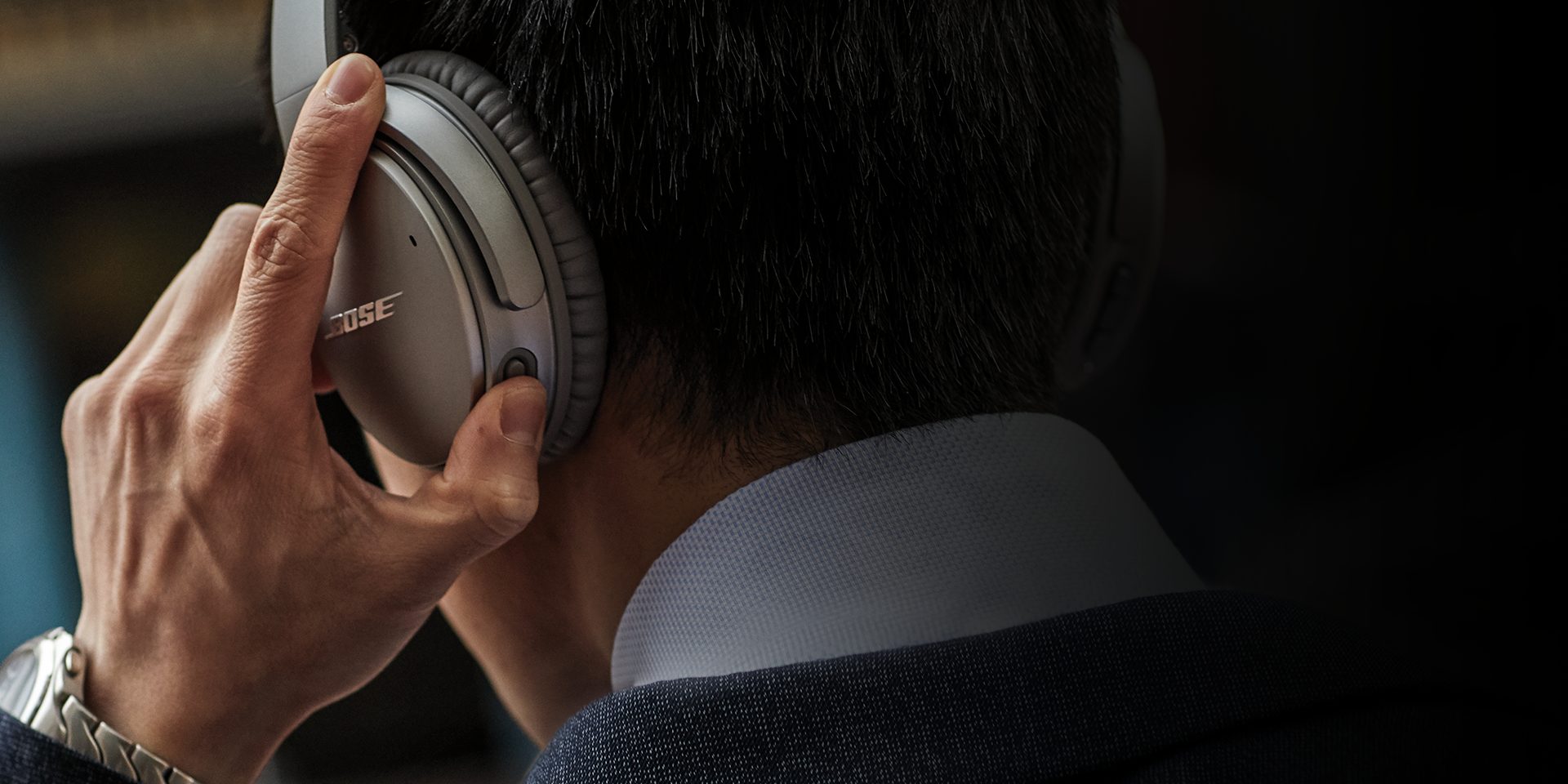 BUILT BETTER
When you want to take your music anywhere, you need headphones built to keep up. With impact-resistant materials, glass-filled nylon, and corrosion-resistant stainless steel, they're engineered to survive life on the go. But when you take them everywhere and listen all day, they have to be comfortable, too. That's why the QC35 headband isn't just soft, it's luxurious. Wrapped in Alcantara® — the soft covering material used in yachts and high-end automobiles — it provides a welcome comfort designed for all-day listening. And the plush ear cushions are manufactured from a synthetic protein leather, so it won't even feel like you're wearing headphones.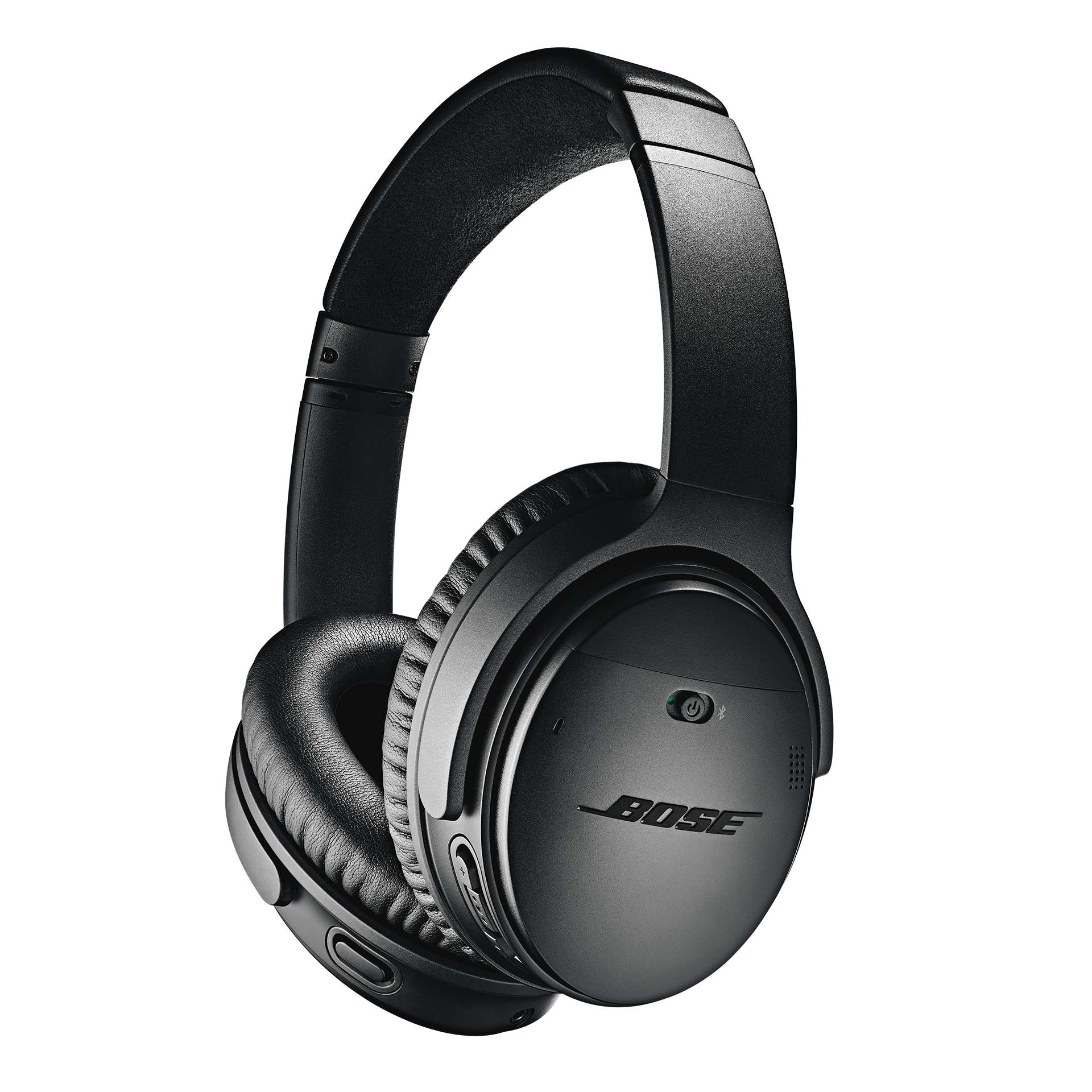 Up to 20 hours battery life
Enjoy up to 20 hours of listening, enough time to pore through this entire playlist. So you can keep the music — or the quiet — going all day long. And when it finally runs down, a quick 15-minute charge gives you another 2.5 hours. For that rare time when you do get caught without battery, use the included cable to plug in and keep the music playing.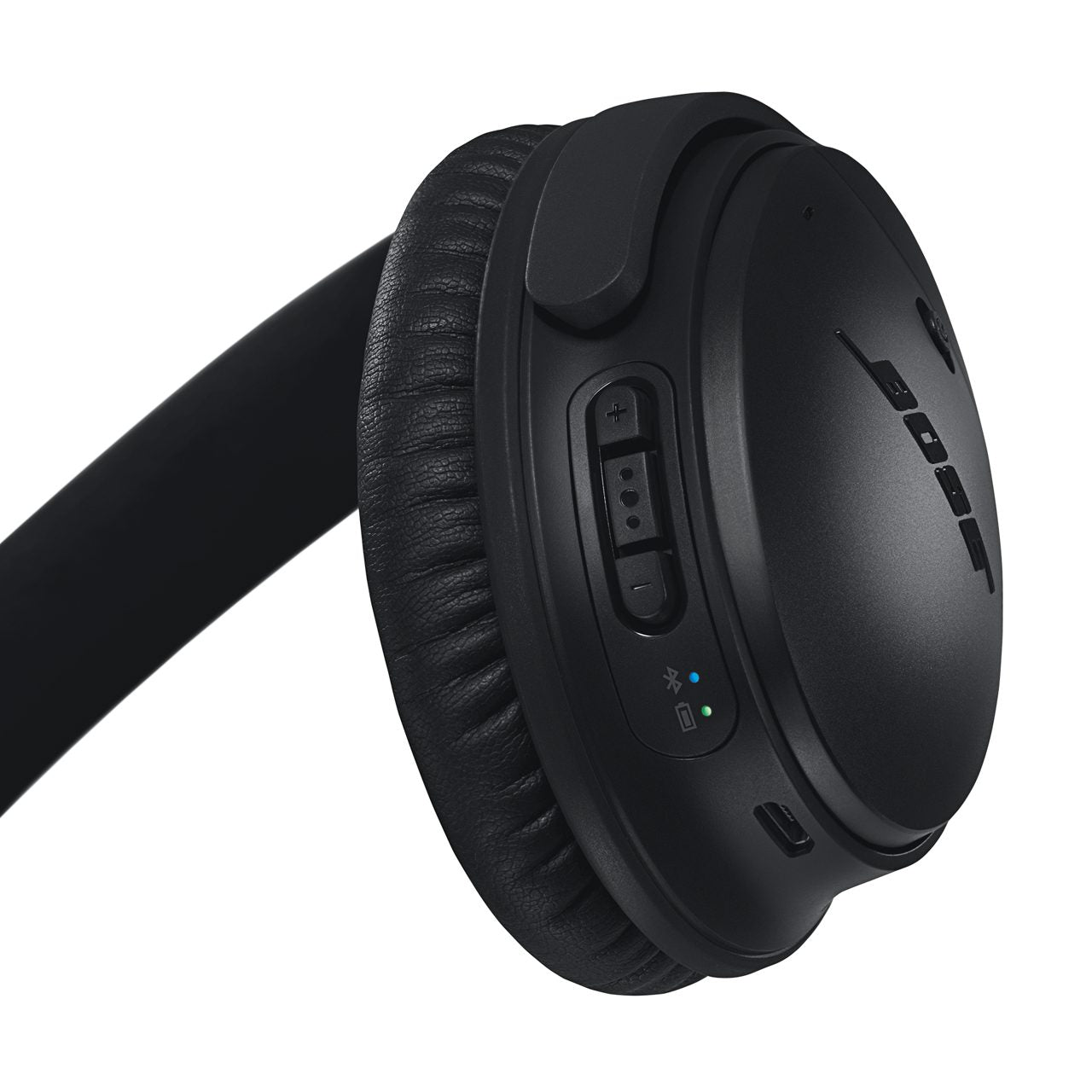 ASTONISHING SOUND AT ANY VOLUME
You want fullness and clarity for your music, regardless of how loud it gets. That's why our drivers feature volume-optimized EQ for even better performance than before. Get clear, balanced audio performance at any volume, and a noise-rejecting dual microphone system provides clearer calls, even in noisy environments. So, when you're playing at low volumes in a quiet office, you get the same, consistent quality as when you need to turn it up on a busy street. 
A few ice breakers…
Using your voice is easy. Just ask Alexa or Google Assistant* to help you get home, add something to your to-do list, check the weather, and so much more — all without glancing at your phone. Explore a few common commands.

TRY THIS

Alexa users, start with "Alexa …"
Play 90s pop
Turn up the volume
Read a book from Audible
What's the weather?
How late is the coffee shop open?
What's on my calendar today?
Lock the doors
The Google Assistant users, start with "Hey Google …"
Play my dinner playlist on Spotify
Set a timer for 30 minutes
Add olive oil to my shopping list
Turn the living room lights to turquoise
What are some good Thai restaurants nearby?
Set my alarm for 7 AM
Read my messages
One app. Complete control.
The Bose Connect app gives you easy access to everything your product has to offer. Get tips and personalize your settings, so you can spend more time enjoying the music instead of setting it up.
Whether you're in an airport or a library, you can also choose just how much you want to hear (or don't) by adjusting the levels of noise cancellation. And remember, sharing is caring. You can connect two wireless Bose headphones, so you and your friend can listen to the same thing at the same time. Hope you have a good playlist lined up.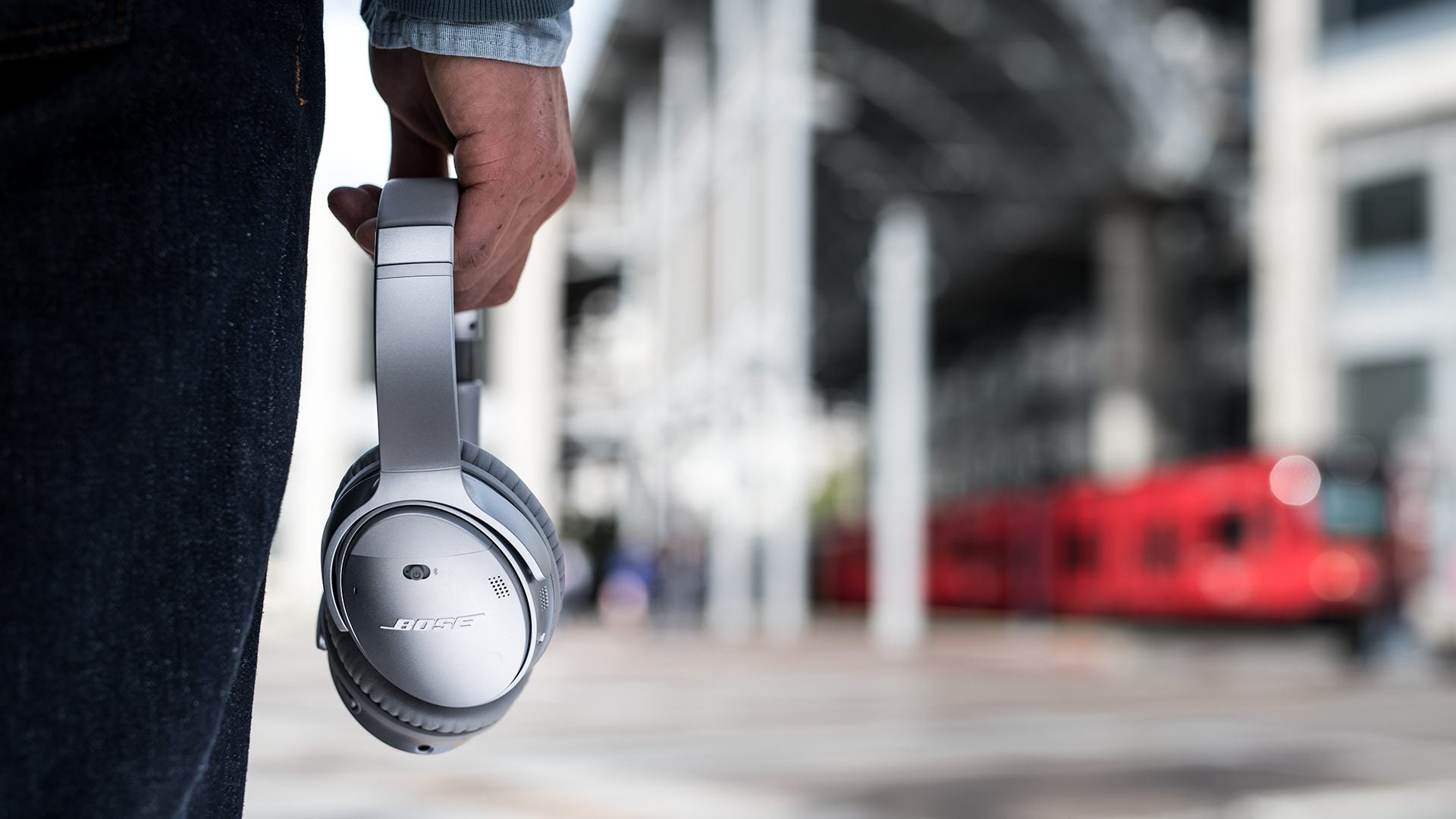 Shipping Delivery
Same Day Dispatch
Place your order in the morning before 3:00 PM and it will normally be shipped the same day. And same-day dispatch service accepts the only delivery address in Australia. Please contact Fixabout "Customer Service" to make sure if your delivery address would in our service range. 
Same Day Delivery
Same day delivery service will not be available after 12:00 pm on any business working days. And same-day delivery service accepts the only delivery address in Melbourne. Please contact Fixabout "Customer Service" to make sure if your delivery address would in our service range.
Return and Exchange Policy
We do appreciate your trust and support on our products and service! We try to make the return process as simple as possible and  bring the best warranty experience to our customer.
Return Policy
1. We offer lifetime warranty. For all faulty items returned can be replaced, or we will offer store credit or refund.
2. An Aftersales List is required. Please return the faulty items together with the Aftersales List (including model, color, quantity and problem). Otherwise there will be a delay for your return process.
3. If the product is non-defective but returned (for any reason), 30% restocking fee will be charged.
Warranty Information
1. Products must be purchased from Fixabout. (Fixabout mark)
2. Lifetime warranty does not include physical damage or damage caused by incorrect installation. These issues are not covered by our life warranty: for screen like screen damage / IC damage / bezel damage / flex cable damage / scratch, for battery like flex cable damage / scratch / out of shape / swollen (unintentional screen damage for is now included in our warranty)
3. All the products must be returned as they are delivered. (new and unused)
Return Process
1. Customer place an exchange ruquest.
2. Repack and return the product with aftersales list, or bring it to our store.
3. After-sale dept. will give a testing report within 1-2 weeks.
4. Customer confirm the test report and Fixabout offer the return / refund / exchange (within warranty)


Payment & Security
Your payment information is processed securely. We do not store credit card details nor have access to your credit card information.